Aleksandra Romano `00
When the topic of memorable sixth grade plays comes up in the St. T's community, there is always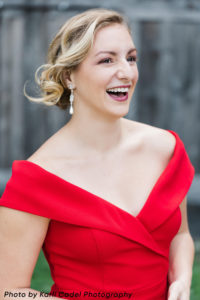 mention of one particular alumna. In 2000, Aleksandra Romano took the stage as the lead in Charlie Brown and Friends and left an everlasting impression with her incredible voice and talent for theatrics. When asked about the performance today, Aleks honestly remarks that she doesn't remember much about it except to humbly say "Yes, I do remember that our class had a lot of creative talent."
It all makes perfect sense when you hear Aleks speak about her background. At four years old Aleks' focus became the violin, and she continued training during her seven years at St. T's and the years that followed at Hopkins. And although she was an active member of the concert choir and acapella group at Hopkins, she never envisioned a future as an artist. A self proclaimed lover of learning, she envisioned a life as an academic, stopped playing the violin and enrolled at Bard College with the goal of becoming a sociologist and anthropologist.
It wasn't until an Art Song elective, that professors recognized her raw and natural talent and suggested she could make something of it. She then applied and was accepted into the Aspen Music Festival and as she tells it, "it all snowballed from there." Aleks spent the next 10 year training and today, Aleks is an award winning and internationally recognized opera singer. She has an incredibly impressive career, having traveled all over the world performing in over 30 professional productions.
Aleks is a stunning beauty with a stunning voice, but perhaps most importantly, she is a kind and humble human being, another true example of a St. Thomas's Day School graduate. And while many may argue her star was born during her sophomore elective at Bard College, we would like to think it all started on an elementary school stage back in 2000.
We encourage you to learn more about Aleks on her website at www.aleksromano.com.