Alexis Gage `00
Alexis Gage is one of New Haven's most talented jewelry designers and here at St. T's we are proud to call her one of our own. Starting her own jewelry design and fabrication business in 2016, Alexis has quickly made a name for herself and her business sales are steadily increasing. She is a true artist who creates custom jewelry out of precious metals and gem stones, inspired by her clients' sto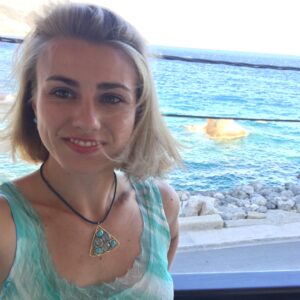 ries.
Her own story began in the hallways and classrooms of St. T's where since JK, she says she was encouraged and inspired by her teachers to be herself. Alexis believes that the St. T's art program is phenomenal as she remembers clearly the interdisciplinary approach between her core subjects and art that inspired her learning. She still has some of the art projects from her time at St. T's, including a picture made in Kindergarten of her "bedroom," filled with snow and tulips. Her love for nature and art was apparent early on in school and she credits Mrs. Ginnetti for molding her curiosity.
Alexis' path from St. T's to business owner isn't what she calls "traditional," but rather unique to her own self. A graduate of Hamden Hall and Phillips Exeter Academy, she went on to study at the Savannah College of Art and Design focusing on metalsmithing and textile design.  After graduation, Alexis honed her craft with metalsmithing apprenticeships and jobs and also studied at the GIA in NYC where she earned a Graduate Gemologist ( GG ) Degree.
A few years ago, she finally took the plunge, opening up her own business. Her pieces are commissioned works, all unique to the customer and she takes time explaining to her clients how and why she made the piece. Alexis says that she takes great joy in designing jewelry that brings happiness into someone's life.
Many of Alexis' clients are members of the St. T's community and "It's an Alexis Gage," can often be heard in the pews of the Chapel or in the seats at the Gala. Alexis will tell you how proud she is of St. T's, but the pride goes far deeper the opposite way. Her talent, grace, and confidence is remarkable and she is a role model for every student at St. T's wanting to be true to themselves and go their own way.
If you would like to learn more, please contact her at ag@alexisgage.com.