Andrew Erdos `97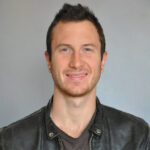 When you ask Andrew Erdos '97, an accomplished artist and glassblower who has had his work shown all over the world, about success and goals, he answers in a way you might not expect. Success, he suggests, is most often measured by financial stability, however as an artist success is in having the ability to do what you love every day. And though he feels far from the pinnacle of his success, he finds joy in the climb up the mountain. As for goals, he says, "To just keep making art."
Perhaps a coincidence, but more so maybe not, Andrew's attitude toward success closely mirrors what the students of St. Thomas's leave the school with – a lifelong joy of learning, a continual need to grow, and a goal to make this world a better place. Andrew also left with lifelong friendships. Despite having moved to Pennsylvania after third grade, he remains close with many of his classmates and believes that is a testament to the culture of the School.
After St. Thomas's, Andrew continued his education in the Council Rocks school system in Pennsylvania. It was during high school that he began taking glass blowing classes at the local community college and became hooked. Andrew attended college at Alfred University, selecting the college for its notable sculpture and glass engineering program. In 2007, he started his career as an artist in NYC, showing up at the beginning of the economic recession – an experience he calls "formative" while smiling dryly.
Since then Andrew has worked hard and has been relentless in his pursuit of success, but still humbly calls himself fortunate to be able to travel the world and show his artwork. He has shown his artwork on every continent (with the exception of Antarctica) and when looking at Andrew's resume you will see a long list of impressive residencies, public collections, and exhibitions. However, what Andrew seems to be most enthusiastic about is the experiences that accompany specific exhibitions. Andrew spoke in detail about the creation of a sculpture permanently installed in Egypt near the Red Sea. The Monument, now in its second year of production is entitled the "Reviving Humanity Memorial" and currently features a sculpture from over 120 artists each representing a different country. Eventually all 195 countries will be included.
Andrew is smart and creative, but more importantly is relentlessly pursuing his passions and making 
the world a better place while doing so. Another exemplary alumnus of St. Thomas's, Andrew leaves our current students with these words by Joseph Campbell, "If you do follow your bliss you put yourself on a kind of track that has been there all the while, waiting for you, and the life that you ought to be living is the one you are living. Follow your bliss and don't be afraid, and doors will open where you didn't know they were going to be."
We encourage you to read more about Andrew at www.andrewerdos.com (or by simply googling his name). Andrew's self proclaimed largest and most ambitious sculpture will be debuting in Brooklyn New York on April 10th at a contemporary Art gallery called The Chimney www.TheChimneyNYC.com