Alexander Babbidge P`06, `10, `12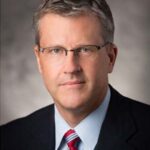 Alex Babbidge founded BABBIDGE Construction Company, in 1992. As President, Alex leads the firm in providing superior quality construction management for private institutional and commercial clients. Babbidge Construction specializes in providing solutions for intricate projects with significant logistical challenges.
Alex is a graduate of Yale College where he received his B.A. in 1986, later studied construction management at New York University, and received his M.B. A. from the University of Connecticut. In addition to being actively involved with a number of area charities, Alex is a Certified Healthcare Constructor and has served on the Board of Directors of the Associated Builders and Contractors of Connecticut.
Alex is pleased to serve as a Trustee at St. Thomas's Day School, where his three children, Andrew, Catherine and Courtney are Alumni.