Gina Criscuolo P`16, `18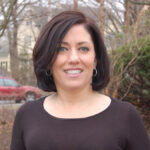 Gina is the Controller for Babbidge Construction Company, Inc. in New Haven, CT. She has been in the construction industry for the past ten years in a CFO/Controller role, working for both subcontractors and general contractors/construction managers. Prior to entering the construction industry, Gina spent fifteen years in public accounting. Gina is a CPA who graduated from Southern Connecticut State University with a BS in Accounting. She serves on the Board of Managers for the Construction Financial Management Association-CT Chapter, and is a member of both Connecticut's Professional Women in Construction Organization and the CT Society of CPAs.
Gina has remained active in the St. Thomas's Day School community even after her sons, Louis `16 and Nicholas `18, graduated.  Her years of service at St. Thomas's include Chairperson and Vice-Chairperson of the Board of Trustees, Treasurer of the PTO, and numerous other committees.