Otoniel Reyes P`21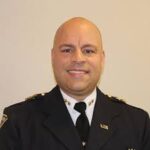 Chief Otoniel Reyes has been a member of the New Haven Police Department since January 2000, where he started his career as an officer in the Patrol Division.  During his almost 20 years in law enforcement, he has conducted numerous investigations on the Local, State and Federal level.  In 2003, he was deputized as a Federal agent with the Drug Enforcement Administration (DEA) and help dismantle one of the largest criminal enterprises in the City's history with connections to New York and Columbia.  Prior to his current assignment as the Interim Chief, Chief Reyes held the ranks and assignments of Detective, Hostage/Crisis Negotiator, Patrol Sergeant, Detective Sergeant, Lieutenant, Commander of Emergency services, Commander of Investigative Services and Assistant Chief. He has extensive training in criminal investigations, leadership development, critical incident management, labor relations, media relations, and policy development. He attended the prestigious FBI National Academy and the Senior Management Institute for Police.
Chief Reyes received the Medal of Honor in 2006 for engaging a gunman and preventing him from entering a school to elude capture after shooting a police officer.  He is also the recipient of two police department life-saving awards.
Otoniel is married to his beautiful wife, Leslie, and they have a bright son, David `21.   He enjoys playing the guitar and bass, sports and spending time with his family.