The Rev. Keri Aubert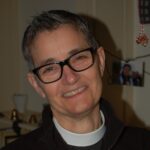 The Rev. Keri Aubert is Rector of St. Thomas's Episcopal Church and President of the St. Thomas's Day School Corporation. She arrived at St. Thomas's in November 2015, having served most recently as Interim Rector at St. James' Episcopal Church in Glastonbury, Connecticut. In addition to her work in Connecticut, since ordination Keri has served as associate and interim priest in Vermont, as program director for an interfaith social services agency in Burlington, Vermont, and as project manager for the Episcopal Church's Standing Commission on Liturgy and Music, as it developed the church's first official resources for the blessing of same-sex unions.
Keri earned her Master of Divinity from the Church Divinity School of the Pacific in Berkeley, California, in 2006. She was ordained a priest by the Diocese of Vermont that same year. A native of Louisiana, Keri earned a B.S. in Chemical Engineering from Louisiana State University and an M.S. in Engineering Management from the University of Alaska, Fairbanks. Before attending seminary, she worked as a chemical engineer, technical writer, and manager.
Keri is married to the Rev. Jakki Flanagan, an Episcopal priest who serves as Emergency Department staff chaplain at Yale–New Haven Hospital. They live in Hamden. Keri and Jakki have a daughter, Morgan, who is a student at Mount Holyoke College.