Candice Norcott `91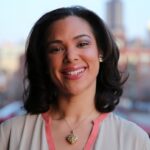 When Candice Norcott was in the second grade, she chose to study and research American Psychologist, Dr. Louise Bates Ames for the biographical unit at St. Thomas's. After receiving a letter from Candice about her work, Dr. Ames showed up at the school for her final presentation. Although Candice remains unsure of just when she decided to pursue psychology, her mother cites this moment at eight years old as the inflection point.
Today Candice is a Licensed Clinical Psychologist at the University of Chicago in the Department of Psychiatry and Behavioral Neuroscience where she is an Assistant Professor, a national consultant and a public speaker. A graduate of Brown University and UCONN, Norcott did her pre and post doctoral work at Yale University's Department of Psychiatry where her research focused on gender and trauma. She then went on to work in the juvenile justice system developing behavioral health curriculum for girls.
Most recently, she was hired by the University of Chicago to develop behavioral health services and educational programs for girls and women around reproductive health. Additionally, Candice serves as a national consultant with extensive experience in trauma, gender and race. She was recently featured on the Lifetime docu-series "Surviving R. Kelly" and was a guest on Jada Pinkett Smith's Red Table Talk as an expert discussing  the impact of sexual abuse on girls and young women, and the intersection of race.
When asked about her memories of St. Thomas's and what impact she thinks the school may have had on her, Candice says that it is less about what she remembers, and more about what she felt. "There was this sense of being safe," Candice says, and expands on it by mentioning the close relationships she had with teachers and other members of the St. Thomas's community. In addition, she mentions that it always felt that what they were being taught was important and related to the world around them.
In the future, Candice plans to continue and expand upon the very important and pertinent work she is doing for our world today. She will move forward with consulting and speaking, and hopes to develop programming for both girls and boys that impacts responsible sexual decision making. A shining example of a St. Thomas's Day School alumna, Candice remains committed to her work and helping others and helps daily to make this world a better place.