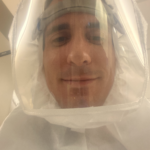 Eamon Duffy is in his third out of a three year residency at Johns Hopkins Hospital in Baltimore as of 2021. As an internal medicine resident, Eamon was part of the vast majority of doctors who had to regroup and spend quite a bit of time in the COVID ICU over the past year. His entire training experience was upended in a matter of weeks, and while it was a devastating and tragic time to be going through residency, Eamon chooses to focus on the positives.
"It was great to be on the front lines, to contribute, and to be able to take care of patients and feel like you are a part of something bigger. Ultimately this is why you decide to go into medicine," says Eamon. Eamon explains that the hospital operated at a high level, with the whole health care system rising to the occasion, and that provided learning experiences that will make him a much stronger physician in the long run.
In 2022, Eamon will take that experience to New York-Presbyterian Columbia Hospital, where he will be a cardiology fellow. Another shining example of a St. Thomas's Day School alumnus, we thank him for his efforts on the frontlines and wish him the best in his future endeavors.