John Paul Schanpper-Casteras `95
John Paul Schnapper-Casteras clearly remembers the reasons why his parents sent him to St. Thomas's as a kindergartner back in 1989. Of course, St.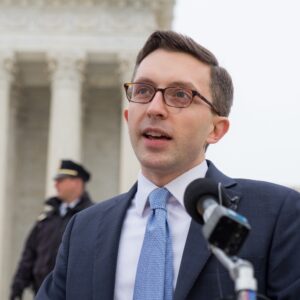 Thomas's is known as an excellent educational institution with superb teachers, but what stood out most for his parents was the reputation the school had for social consciousness. That being said, JP's life path may not come as much of a surprise.
After graduating from St. Thomas's, JP's family moved to Seattle where his interest for social justice grew deeper and where he developed a love for technology. As a undergrad at Stanford University, JP turned his interests into accomplishments. He was the Editor-in-Chief of the Stanford Scientific Review, the Founder and Director of the Stanford-Iraq Student Exchange, and the recipient of the Sterling Book Award for volunteer service.
Ultimately, JP chose a career in public interest law, obtaining a joint degree from Stanford Law School and the Harvard Kennedy School. He spent two years clerking for federal judges in the Washington, DC and Virginia and then went on to practice law at Sidley Austin where he focused on the Supreme Court and constitutional law. In 2014, JP became the Special Counsel for Appellate and Supreme Court Advocacy for the NAACP Legal Defense and Educational Fund, a national civil rights organization that brought the historic Brown v. Board of Education case.
Most recently, JP started his own law firm, Schnapper-Casteras, PLLC, a firm specializing in public interest law and technology – finally putting his two passions back together. He will focus on issues of civil rights and social justice, which are especially important in the current climate. His technology focus will deal with emerging technology issues and he plans to take on clients that are using innovation to help make the world a better place.
It goes without saying that JP himself has spent every day since his graduation from St. Thomas's trying to help make the world a better place. He recognizes that in many ways he owes his trajectory to our small little school and the opportunities he has been afforded since. After all, he lists his favorite memories as volunteering, field trips to homeless shelters, the "giving tree," and the lively conversations in the 5th and 6th grade classrooms about why there is injustice and evil in the world and what as students they could do about it.
In addition to technology and social justice, JP has one other passion in life — his family. He is happily married to his sweetheart from graduate school, Tamara, and they have a son, Theodore, 14 months. While they call DC home, we hope that if JP ever wanted to find his way back to New Haven, he knows there is a special little school where his son could someday attend. And like he has done himself, his son just might help change the world.