Megan Janeway `95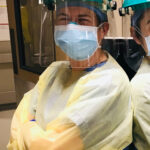 Megan Janeway is a surgical resident at Boston Medical Center, a safety net hospital for the Boston area. This past spring, she was repurposed to the COVID- 19 procedure team as Covid patients at the hospital reached 80% of admissions. As a hospital that is in one of the cities hardest hit by Covid and that largely serves the more affected low-income, Black and Hispanic communities; Boston Medical Center had a number of critically ill patients in the spring. Although a difficult time for all, Megan says she was honored to have served on the Covid procedure team and felt a sense of camaraderie from her co-workers who never questioned their essentiality or purpose.
While admittedly the pandemic is incredibly tragic and has deeply affected the community at Boston Medical Center, Megan noted a few important takeaways. First, the pandemic has been a good lesson for physicians on the importance of having flexibility, adapting systems, and expanding thinking on care with limited health resources. And secondly, the pandemic has highlighted the social disparities that exist in health care in a way that simply can no longer be ignored.
Seven years ago, Megan co-founded Socially Responsible Surgery, a group of physicians who work together with the goal of "leading the effort to establish social responsibility as a core value of surgical practice. This includes equal access to surgical care, eliminating healthcare disparities, increasing patient advocacy as well as educating and serving our local and global community." While Megan and her team have been working for healthcare equity for years, the pandemic has drawn closer attention to it, which has helped in getting access to legislators to work to improve surgical care for marginalized communities. Megan and her team at Socially Responsible Surgery have been and continue to work full steam ahead to address healthcare inequalities.
Megan is yet another one of the many alumni who have recognized their responsibility to their community and world and have taken action. She believes that it all started at St. Thomas's.  "My interest in the disparities that exist in the world started during my time at St. Thomas's. The experiences and exposure that I had, whether it was my classmates, the field trips we took, or the things I learned about, it was all very formative and one of the most influential things to me."