Rosalie Metro `90
Rosalie Metro '90 has one impressive resume – she is a scholar, an educator, an author, a mediator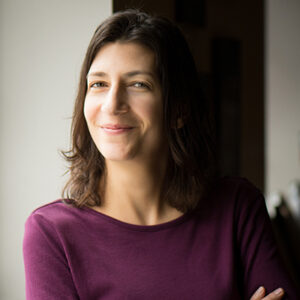 , a consultant, a wife and a mother to two small children. Her accomplishments are many, although she says that her success did not come easily or without hard work, and she attributes her perseverance and overwhelming belief in herself to have come from her time at St. Thomas's.
Rosalie entered the St. Thomas's Junior Kindergarten class in the fall of 1982 and says that throughout her time at the school, she felt valued and supported. She mostly remembers the many exceptional teachers she had and believes this helped her develop her own love of teaching. "Hope Crescione greatly influenced my life. She promoted critical thinking, seeing things from different perspectives and she didn't settle for simple answers."
After graduating St. T's, Rosalie went on through the Hamden public school system, received her B.A. from Reed College, her M.A. from Goddard College, and her PhD. in Learning, Teaching, and Social Policy from Cornell University. She spent time volunteering in Southeast Asia where she began learning the Burmese/Myanmar language and continued her studies at Cornell University where she conducted much of her doctoral research in Burmese.
She has taught at the secondary level and is now an Assistant Teaching Professor at the University of Missouri – Columbia.  She is the author of several scholarly works and textbooks, and her first fiction novel Have Fun in Burma, will be published by Northern Illinois University Press in 2018. In addition, Rosalie serves as Burmese interpreter for the local school district and teaches insight meditation at the Show Me Dharma organization. Just as importantly, she is a wife to Sean and mother to Mae (5) and Louis (3).
St. Thomas's prides itself on graduates who embrace lifelong learning, who engage in courageous exploration, and who are responsible, global citizens of this world. Rosalie emulates all these qualities and more. Please join the St. T's community in celebrating and supporting her work!
We invite you to read more about Rosalie on her website.