Sara Nadel `92
Sara Nadel is the quintessential portrait of a St.Thomas's Day School graduate – she embraces lifelong learning, she recognizes her responsibility as a global citizen of this world, she pursues understanding with an adventurous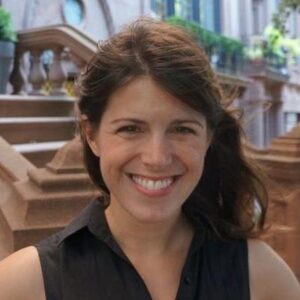 spirit and she demonstrates innovative and progressive thinking. Thirty-three years ago, Sara was a curious little girl in the St. T's Pre-K classroom and today she is a PhD graduate of the Harvard University Kennedy School of Government, a successful civic minded entrepreneur, and a wife and mother.
Sara's road to success did not come without hard work. She received her undergraduate degree at Stanford University and her post-graduate degrees at the Harvard University Kennedy School of Government. It was during these years that she became focused on Latin American economics, studying and working in Ecuador, Chile and Peru. Perhaps most impressive was that in 2012, while at the Kennedy School, Sara decided to open a business. Farolito was a company based in Peru that developed skill and psychometric testing to identify ideal workers for early career positions. Sara ran this business while concurrently finishing her PhD.
Eventually, Sara sold Farolito and moved her business back to the U.S where she is currently the co-CEO and co-Founder of StellarEmploy, a company that offers a web-based service that uses an algorithm to match companies with employees (often low-wealth) who have the skill sets that will allow them to thrive in a certain position. She has helped to employ or increase wages for thousands of people who otherwise might not have a job.
In addition to her busy professional life, Sara also manages a busy home life. She and her husband Marshall reside in Brooklyn and just recently became parents to baby Elbie, born on Christmas Day.
It is clear that Sara has gotten to where she is today with hard work, perseverance and passion. However, Sara does acknowledge that much of her trajectory can be traced back to her time at St. Thomas's. She recalls that as a child she did not have much of a math brain and credits close personal teacher attention with helping her to overcome her academic challenges. In addition, she believes the strong sense of social justice, the integration with the greater New Haven public schools, and the emphasis on religion helped to shape her interest in community and economics. And while Sara is thankful for the interests and qualities she developed at St. T's, there is one aspect of the school that stood out the most for her, "We were allowed to be kids."