Sherie Randoph `84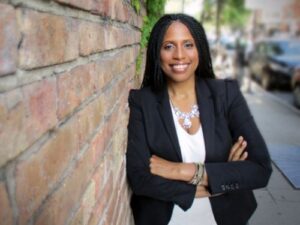 A native of New Haven, Sherie Randolph was excited when she learned that her good friends and their children (her godchildren) were moving to her hometown. But it wasn't until a few months of spying a familiar plaid and familiar school surroundings on social media that she realized that her goddaughter was attending St. Thomas's Day School, her alma mater. After 35 years, she quickly became reconnected.
Having attended St. Thomas's from Junior Kindergarten through fifth grade, Sherie mostly remembers playing outside on the playground, the reading nook (now the makerspace), Christmas caroling, friendships and events such as Field Day. She even remembers the particular smell of St. Thomas's, "the smell of my childhood" – what she recalls as a mix of orange and spice and often tries to replicate in her own kitchen for her son. This seems on point as St. Thomas's was and continues to be a place that preserves childhood.
The seriousness began for Sherie in middle school and high school where she put in time and hard work to start on her path to success. It was as an undergrad at Spelman College where she fell in love with history. Sherie then went on to Harvard University Graduate School of Education and New York University ultimately receiving her PhD in American History.
Today, Sherie is an accomplished professor, author and historian. She is currently an associate professor of history at the Georgia Institute of Technology where she teaches courses on social movements, black feminist theory, gender, race and incarceration, Black Power, African American history and women's history. She is the founder of the Black Feminist Think Tank, which creates programs that support the work of Black feminists and she is the author of Florynce "Flo" Kennedy: The Life of a Black Feminist Radical. Her second book"Free Them All": African American Women Political Exiles in Cuba is in the works.
St. Thomas's is a school that promotes and nurtures social activism. Our students believe their work is to make the world a better place and are encouraged to research, promote and fight for the causes they believe in. Sherie is a role model for our students  – her work is inspiring and influential, and every day she helps make this a better world. To learn more about Sherie, please visit her website (or just Google her!) at www.sheriemrandolph.com.