Spencer Lovejoy `10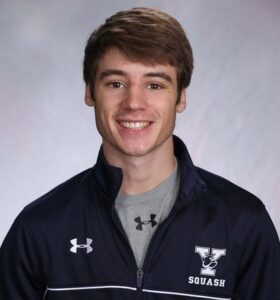 It has been said that 10,000 hours of practice can turn anyone into an expert. That is certainly the truth for our alumnus and professional squash player Spencer Lovejoy, who  spends approximately four hours a day training, and has been doing so since long before he came to St. T's.
Spencer entered St. T's in the fifth grade – a decision that was made by his parents in the search for a smaller and more academically challenging school. St. T's was the clear choice made more special since it was the place where his father, uncles and aunt had grown up and gone to school.  Additionally, Spencer already knew a lot of the students from his time spent at the New Haven Lawn Club, where his squash career first began.
Spencer first starting playing recreational squash with his father at the club, which then led to professional training by squash pro Lynn Leong. Spencer credits Leong with giving him the confidence he needed to start playing competitively and it wasn't long before he became a top player in the junior tournament circuit. At the age of 17, Spencer ranked in the top 5 in the country and represented the US in the World Junior Championships where his team broke a record, placing 3rd in the world.
Most impressively, Spencer has managed a successful squash career right along with an academically grueling school career. A graduate of St. T's and Hopkins, Spencer is currently a history major and a member of the men's squash team at Yale University. Spencer is in the #1 spot on the squash team and just finished his sophomore season ranked #9 individually and #10 as a team nationally. During the off-season, he plays and trains at a professional level which he hopes to enter into full-time upon graduation.
Spencer keeps in close contact with his classmates from St. T's and says that many of them have followed his career from the day he started school. The St. T's community is certainly a group of Spencer's biggest fans! Don't hesitate to follow Spencer's career by visiting his Yale player profile and professional player profile.