Victoria McCraven `09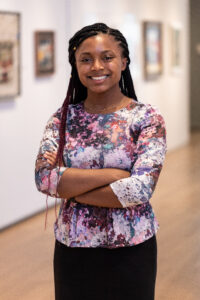 During her senior year at Dartmouth, Victoria McCraven '09 was chosen as a Fulbright Scholar and was awarded a grant to study at the University of London's School of Oriental and African Studies. She is looking forward to working her way to a master's degree in art history. This award followed Victoria's vast array of studies abroad and her internships with the Hood Museum of Art and the Amistad Center for Art and Culture. It was during this time that she developed her interest in art history, particularly West African photography, and stacked up a long list of accomplishments and writing credits.
When looking back at her time at St. Thomas's, Victoria remembers a scattering of things – field trips, after school, teachers, particular lessons – but what she keeps coming back to is the confidence the school instilled in her and the community that supported her. In fact, she feels as though the St. Thomas's community continues to support and guide her on her path. Recently, Victoria had the privileged of assisting and learning from current St. Thomas's parent and notable artist Titus Kaphar in his studio.
What does the future hold for Victoria? She says that after graduation she sees herself back on the east coast working in a museum and applying to graduate school for a PhD in Art History with a focus on African American artists. She envisions then taking her expertise to do work in a museum, but ultimately wants to build something of her own – creating content, exhibiting shows, and developing educational programming to go along with it. We can only hope that this path will lead Victoria back to St. Thomas's someday, as the School continues to progress and provide the students with multiple historic and cultural perspectives, and when possible, use the work of our alumni to motivate them to do similar good.