Steven McDonald `98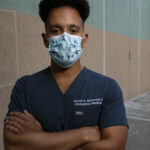 Steven McDonald is an assistant professor of emergency medicine at Columbia University Irving Medical Center, where he has been working tirelessly on the emergency room floor fighting the COVID- 19 pandemic since March. In addition to his time on the front lines, Steven has taken a deep dive into advocacy work focusing on the disparities that exist for communities of color in the hospitals, in medicine, and in our country.
While Steven has always worked for marginalized communities, but feeling like he was not achieving enough, he was motivated into action after an extraordinarily tough spring in the emergency room. With a tremendous volume of patients, and no real clear therapy to offer at the time, Steven was left feeling helpless. Additionally, working on the front lines of the pandemic brought to light the racial inequities that exist in our country. He reached a point where he thought "enough is enough" and submitted a written piece to The Atlantic. "No One is Supporting the Doctors" was published in April 2020.
Since then, Steven has been published in the New York Times and has been quoted and interviewed by several other media outlets regarding the pandemic, racism, and the social unrest that surrounds it all. Currently, he is involved in a project at CUIMC that looks at differential treatment of agitated patients by race. This project is a result of a health equality class Steven began in September. In the future, he hopes to continue writing and doing advocacy work (and perhaps produce a podcast) with the hopes of catching the attention of policy makers.
At St. Thomas's we nurture empathy, compassion, respect and inclusivity and encourage our students to provoke change and to be "upstanders" in the fight against racism. Steven is among the many alumni who have recognized their personal responsibility to make this a better world and is a true role model for the St. Thomas's student. Offering a few words of advice to our students, Steven says,  "The world today seems to have a lot of problems, and you may think 'wow there is no hope, what can one person do?' St. Thomas's is one of the most supportive environments that I have ever been in and I learned to not despair and that I could make a change if I cared enough about something. Take away that feeling of support and carry it with you."